UltiMAK AK Optic Mount for Hungarian AMD
For Hungarian AK's Having Shorter-Than-Standard Piston Tubes
Also fits most regular, Romanian Dracos (not "Mini" or "Micro" Dracos)
(Will not fit, and cannot be made to fit, "Krinkov" type weapons. See the M13 mount.)
Same as M1-B but designed for the shorter piston tube of many Hungarian AK's.
Clamps rock-solid to barrel for maximum stability and accuracy.
Replaces the gas tube.
Includes barrel clamps, screws, Allen wrench and instructions.
Easy installation (some handguards require modification; see below)
Made in U.S.A.
Construction: Solid, one-piece 6061-T6 hard anodized aluminum body.
Rail: Picatinny style (13 slots).
Length: 5.75″
Model# M7-B
---
The UltiMAK M7-B adds critical functionality to this AMD-65. This semi auto version makes an excellent sporting weapon. The shorter AK, with its folding stock, was originally designed for motorized units. It's smaller size makes it easier to handle in the confined spaces of troop carriers, aircraft, and other vehicles. It uses a 20 round magazine (shown) for the same reason, but it will take the 30 round mags too.
The primary purpose of the extended muzzle break, in this case, is to get the barrel length up to the minimum 16 inches required to (apparently) render the firearm unsuitable for criminal or nefarious applications in the U.S.. Certainly though, this little weapon is handsome, accurate, tough, potent, reliable and affordable, not to mention extremely cool (when was the last time you said that about a politician?).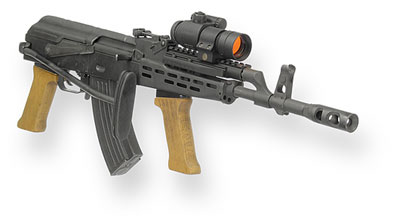 Regarding handguard modification:
If your AMD has a ventilated steel lower handguard of the type depicted below, it will require some minor fitting to make room for the mount and barrel clamps. In the following image, see the unaltered handguard at the top, and the modified handguard below it. The required cuts are shown between the arrows. This is easily accomplished using a Dremel tool with a grinding stone. To make it professional you can finish afterward with some cold bluing compound, although that is not a requirement. Alternatively, a standard AKM handguard may be used, with some minor fitting.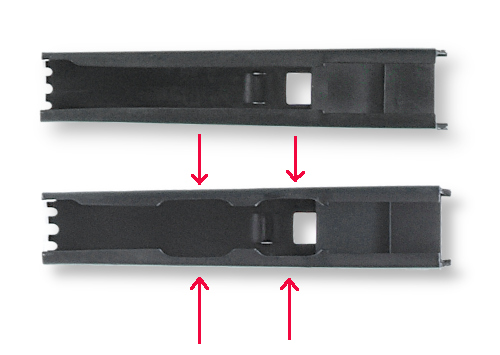 Regarding Dracos:
The M7-B mount fits most Romanian Draco pistols and Short Barreled Rifles as is. For some Dracos, the mount will need to be shortened slightly at the front. In other cases it can be up to a quarter inch shorter than the factory piston tube. In either case the M7-B is the correct mount for your Romanian Draco. We have thousands of customers happily using this mount on their Dracos. This mount however is not designed for "Mini" or "Micro" Dracos.
Will the UltiMAK M7-B Optic Mount fit my rifle? Further reading.