UltiMAK Optic Mount for "Krinkov" AKs
(AKS-74U, SLR-106U/UR, SLR-107U/UR, SAM7K, etc.)
Based on the proven and successful M1-B and M2-B UltiMAK AK mounts, adapted to the shorty "Krinks". Fits most other "Krinkov" style AKs having the same gas system length. Easy installation instructions included.
Clamps rock-solid to the barrel for maximum stability and accuracy.

Replaces the gas tube and upper handguard assembly.

This is the lightest, lowest, and simply the best mount available for AKs.

Includes steel clamps, screws, Allen wrench, and instructions.
Easy installation: no gunsmithing required.
Made in U.S.A.
Your AK may need the shim set, SH-1. See below*
Construction: One-piece 6061-T6 aluminum mount body, hard anodized.
Rail: Picatinny style (10 slots).
Length: 4.625″ (4 & 5/8″)
Model# M13
---
The forward, low mounting enabled by the UltiMAK system provides a better cheekweld for faster target acquisition. Also allows co-witnessing of the iron sights with most tubular reflex type sights, such as Aimpoint.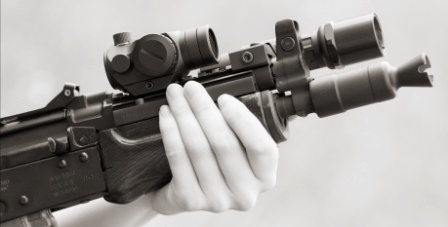 (photo: Oleg Volk)
* How to determine if your "Krinkov" AK needs an SH-1 shim set:
Below you can see the M13 mounted on an AKS-74U having a stepped barrel in the area of the M13 barrel clamps. Our shim set, SH-1 (shown installed under the front clamping position only) eliminates the step so the M13 can be installed tight and level without binding the piston. Check your barrel and see if it matches the stepped profile of this one before ordering. If it does, then order the SH-1 and install the shims as shown while also following the M13 instructions, and you're good to go.