UltiMAK AK Scout Mount
For standard length, standard weight AKs/AKMs, that have original gas tubes without side gas port holes.
Clamps rock-solid to barrel for maximum stability and accuracy.
Replaces the gas tube/upper handguard assembly.
Includes steel clamps, screws, Allen wrench, and instructions.
Easy installation: no gunsmithing required.
Made in U.S.A.
Construction: Solid, one-piece 6061-T6 hard anodized aluminum body
Rail: Picatinny style (16 slots).
Length: 6.875″
Model# M1-B
---
UltiMAK M1-B: A rock-solid platform for your premium optics. With the increasing popularity of the AK based rifles in three gun competitions, the need for a handy, light, completely reliable high speed sighting system has resulted in the UltiMAK M1-B optic mount. Its Picatinny style rail is positioned well below the iron sight axis, making this the lowest optic mount available for the AK. With a tubular sight mounted low, you will be able to use your optic without a comb riser and still use your regular hold. The system allows for co-witnessing (the ability to use your iron sights right through a 1x sight as a back-up sighting system) when used with a tubular reflex sight. This heavy duty mount replaces the original steel gas tube and upper handguard, so it adds less than one ounce to the weight of the rifle, making it by far the lightest optic mount installation in the world. The forward positioning of the optic gives you faster, easier and more natural targeting while maintaining your full field of view. Multiple target or moving target engagements, with both eyes open, become second nature.
Romanian Small Bore AKs Only: Romanian 5.45 and 5.56 mm caliber AKs require our shim set SH-1 to match the M1-B to the smaller barrel. Other European and Chinese small bores will NOT need the shims.
The UltiMAK AK optic mount rarely if ever needs to be removed to clean the rifle, so you need not worry about loss of zero. Since the mount is clamped to the barrel and not jammed in between the gas block and the sight block like the original gas tube, several UltiMAK users have reported an improvement in their AKs' inherent accuracy.
Shown here the M1-B is installed on an Egyptian rifle with a Choate Dragunov style stock.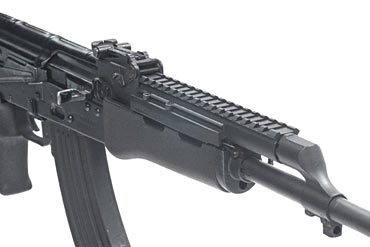 Will the UltiMAK Optic Mount fit my rifle?
(More details on the interchangeability of the UltiMAK design)