GG&G Offset Light Mount

Mounts to Picatinny rail.

Provides an offset Picatinny rail.
Solid aluminum construction with steel crossbolt.
Made in U.S.A.
Finish: Black, matte, anodized, laser engraved.
Model# GG-1131
---
Designed for use with a forward pistol grip, this unit is intended to mount on the bottom forend rail to offset the light's position, allowing the switch to be more easily operated with the offhand thumb. It works well with either push button light switches or the rocker type switch as on the Streamlight TLR-1 (shown below) or the TLR-2.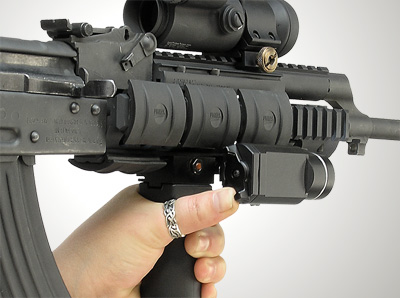 However, it has some other very useful applications. It works very well for mounting a light on a weapon that has no bottom or side rails, like this M1A with its UltiMAK M8 forward optic mount.