Streamlight TLR-1 Heavy Duty Weapon Light

Fits Glock rail and Picatinny Rails.

Solid aluminum construction.
High-output LED source.
Built to last.
Uses two lithium 123 cells.
Made in U.S.A.
Finish: Black, matte, anodized, laser engraved.
Model TLR-1
---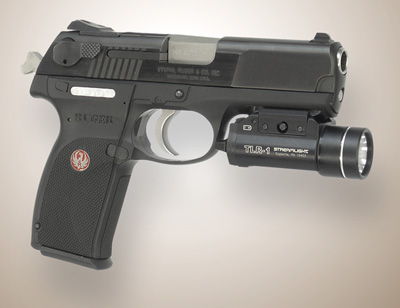 Know your target and your surroundings!
This super tough unit is a vast improvement on the cleverly designed M3 weaponlight. Its metal body and rail clamping mechanism make for an ultra-reliable and secure light for self-defense, security and military applications, as well as for low-light sporting challenge events, which are beginning to become popular.
Installs by loosening the thumb knob and using it as a push-button, tipping the light onto the rail. The knob is then tightened for a secure clamping action on the rail. A coin slot is provided for extra torque. A rocker switch on the back of the unit provides a momentary-on function when rocked one direction, and a latching-on switch when rocked the other direction. The metal reflector housing can be rotated to adjust the with of the beam. A unique reflector design and precision manufacturing result in a smooth, even beam of light with no dead spots.
The high-output LED illumination source uses less power because it more efficiently converts electrical energy to visible light. By comparison, a conventional filament bulb uses most of the power generating heat. This LED generates enough light to temporarily blind an opponent.