Streamlight TLR-2 Heavy Duty Weaponlight/Laser Sight Module

Fits Glock rail and Picatinny rails.

Solid aluminum construction.
High-output LED light and laser diode sources.
Red laser aiming device with secure W & E adjustments.
Built to last.
Uses two lithium 123 cells.
Finish: Black, matte, anodized, laser engraved.
Made in U.S.A.
Model TLR-2
---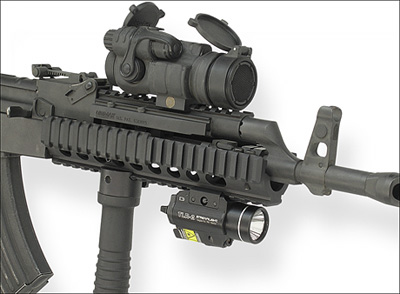 Know your target and your surroundings!
This super tough unit is a major improvement on the cleverly designed M6 weaponlight/laser module. Its metal body and rail clamping mechanism make for an ultra-reliable and secure light for self-defense, LE and military applications. Its secure rail grabber provides a completely reliable, repeatable zero for laser aiming. The laser's windage and elevation adjustments have enough range for an easily obtained zero that will stay where you put it. The mode selector switch has three positions:
1. Light only.
2. Light with laser.
3. Laser only.
Installs by loosening the thumb knob and using it as a push-button, tipping the unit onto the rail. The knob is then tightened for a tight, secure clamping action on the rail. A coin slot is provided for extra torque. A rocker switch on the back of the unit provides a momentary-on function when rocked one direction, and a latching-on switch when rocked the other direction. The metal reflector housing can be rotated to adjust the width of the light beam. A unique reflector design and precision manufacturing result in a smooth, even beam of light with no dead spots.
The high-output white LED illumination source uses less power because it more efficiently converts electrical energy to visible light. By comparison, a conventional filament bulb uses most of the power generating heat. The LED generates enough light to temporarily blind an opponent's night-accustomed eyes.