Mounts sold under this category are discounted because they have minor blemishes (this kind of merchandise is also referred to as "seconds"). They have flaws that are cosmetic, but do not impact the mount's functionality. Each blemished ACR2 mount has its own imperfections, which may include minor scratches and wearing of the finish in small areas. Please note that the appearance of blemished mounts can vary widely.
---
UltiMAK Multi Rail Forend System – Compact Length
ACR2-SC fits AMD-65, plus virtually all other

standard weight

stamped

 AKs.

ACR2-MC is compatible with

all

milled

receivers, plus Yugo

(Zastava) M70 series stamped AKs.

Color: Matte black

Includes all hardware and instructions
Easy installation

Made in U.S.A.
Construction: Hard anodized 6061-T6 aluminum with 4140 steel attach points
Rail: Picatinny style (21 side / 20 under)
Length: 8.625″ (8 & 5/8)
Innovative design and precision manufacturing provide a very secure and rugged foundation for your premium accessories. With the growing popularity of the ACR2 system, it became necessary to produce a model that would fit the AMD series AKs having shorter gas tubes, and that would also fit most standard AKs. The new "Compact" ACR2 modular AK forend fills this requirement, plus in its milled AK version it fits the unusual Zastava (Yugo) M70 series AKs that have been popping up in the U.S.. The ACR2 is made of high strength, MIL STD hard anodized aluminum with 4140 steel attach points.
The generous length MIL STD 1913 Picatinny rails give plenty of room for your hand, plus any combination of rail mount lights, lasers, grips, sling mounts, and bipod mounts. This "compact" version is shorter than our other models, but is still longer than the original AK handguard. Our proprietary expanding rear tenon system squares and centers itself firmly inside the receiver. The dual, floating clamp system in front locks the unit to the barrel without applying off-axis forces that could affect accuracy. You can mount a quality laser aiming module with full confidence in maintaining your zero under harsh field conditions. A result of the thoughtful engineering you've come to expect from UltiMAK, it increases the cooling efficiency of the rifle, and is surprisingly lightweight, strong, comfortable, stable and versatile.
The ACR2 body fits over the outside of the original forend cap (covering a forend cap mounted sling loop – sling loops mounted at the gas block are still available for use) and has enough width that your rail mounted items will be far less likely to interfere with one another. Shown below installed with optional accessories (sold separately).
---
Romanian SAR-1 with UltiMAK ACR2-SC, UltiMAK M1-B optic mount and Aimpoint CompC3 reflex sight. All true Americans find it heart warming, even a little uplifting, when they see one mounted in the gun rack of your vehicle – it means Liberty, a little bit, in places, still lives and that we intend to keep it!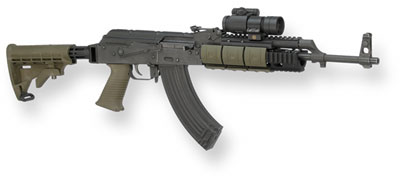 Hungarian AMD-65 with UltiMAK ACR2-SC, an UltiMAK M7-B optic mount and Aimpoint CompML3 reflex sight.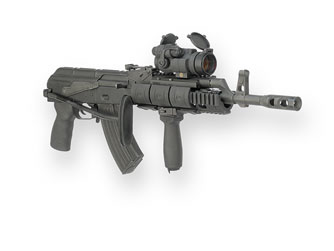 Bulgarian SLR-101 (milled receiver) with UltiMAK ACR2-MC, the UltiMAK M1-B optic mount and a Trijicon TX30 Tripower reflex sight. If there's such a thing as a "Cadillac" of AKs, this one comes pretty close.

In the final photograph is a Yugoslavian M70 series by Zastava with a plethora of American-made parts including the receiver. Its unusual barrel trunion makes for installation of an extended, milled AK type stock forend even though it has a stamped receiver. The UltiMAK ACR2-MC drops right in. This AK is built heavier in places than a standard assault rifle, but has a standard weight barrel. You can see the RPK style receiver swells (just under the charging handle) that accommodate a heavier trunnion with beefier lock lugs. It has a longer gas tube than other AKs, so there is no optic mount (We're working on one). The folding grenade sight is a crude, yet clever design that operates a gas check valve when deployed. Though very well made, we are informed that many of the M70s found in the U.S. have shot-out barrels, as does this example. The M70s take no after-market furniture (so far) other than a pistol grip and the UltiMAK ACR2-MC. The bird cage style flash suppressor/muzzle protector is made in Idaho.