UltiMAK Optic Mount for Yugo M70 Series AKs
Fits M70, M70A, M70AB, M70AB2, NPAP, OPAP, et al, rifles
(Not for M72 or AK pistols.)
Clamps rock-solid to barrel

for maximum stability and accuracy.
Replaces the gas tube/upper handguard assembly.
Includes steel clamps, screws, Allen wrench, and instructions.

Easy installation: No gunsmithing required

Made in U.S.A.
Construction: Solid, one-piece 6061-T6 hard anodized aluminum body.
Rail: Picatinny style (16 slots).
Length: 7.515″
Model# M9
---
UltiMAK M9– A rock-solid platform for your premium optics. With its rail positioned well below the iron sights, this is the lowest optic mount available for the AK. You will be able to use your optic without a cheek riser and still use your regular hold. Allows co-witnessing of iron sights when used with tubular bodied 1x sights, such as Aimpoint or Tripower. Shown below with the Aimpoint Micro.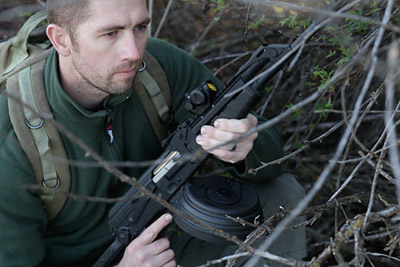 (Photo by Oleg Volk)
For a co-witnessing installation, mount an Aimpoint Comp (shown)in a low ring after cutting the grenade sight down to the first "ladder rung" as shown below. Cutting of the grenade sight is not required for the Aimpoint Micro or other miniature sight. This photo also shows the UltiMAK ACR2-MC railed modular forend, which is a drop-in fit with the M70 series AKs.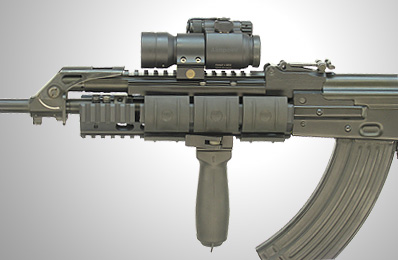 Will the UltiMAK M9 Optic Mount fit my rifle? Further reading.