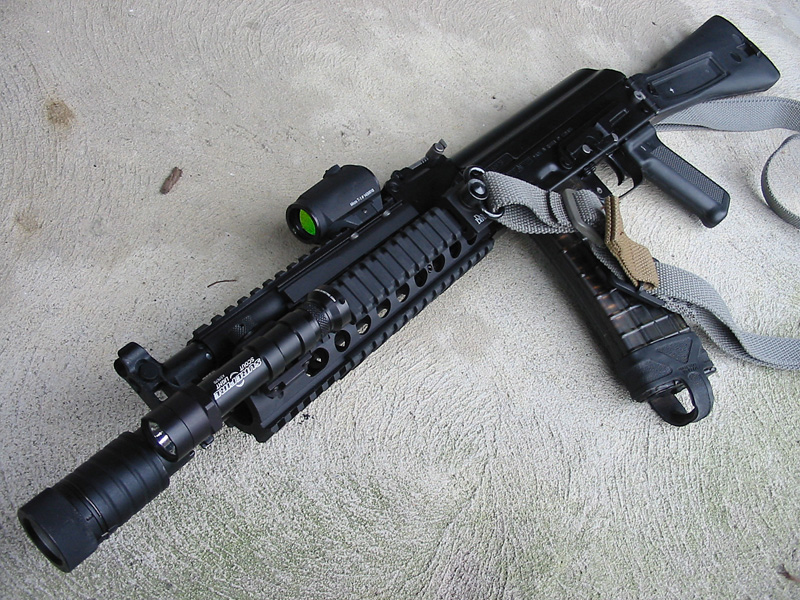 A customer-supplied photo from Jay C. He had this to say:
I recently attended a three day low-light intensive class with Larry Vickers and Ken Hackathorn. I decided to run an AK in the class; here's how it was laid out:
Marshall Arms NFA AK-102 clone on Russian Saiga receiver
12.5″ chrome-lined barrel, 1/7 twist
Russian FCG, PG, folding stock, top cover, FSB, rear sight, bolt carrier, piston and other small parts
UltiMAK AK "scout" mount Model M1-B
UltiMAK Multi Rail Forend System ACR2-SC
Aimpoint Micro T-1
SureFire Scout Light w/ incan head & tail cap switch
Daniel Defense Rail Mount QD Swivel Attachment Point
Vickers Combat Applications Sling
BJB SWIFT safety lever
Bulgarian 30 rd "clear waffle pattern" magazine w/ 5.56mm MagPul
Bulgarian "Krinkov" 4-piece "flash suppressor"
The thing was a formidable gun – by the end of TD3 several of the AR shooters came to look at it more closely and even shoot it. Ken Hackathorn and Larry Vickers both voiced their approval of how it was laid out. It's night-fighting capability was solid. Accuracy-wise it was on par with the AR's and I could run it just as fast, with one exception:
If one desires (or is forced) to run an AK for serious purposes, one must become a master of the admin/tactical reload. Ammo management is crucial, because you want to avoid that emergency reload if you can. You must also master transitions to the sidearm inside 25m. This applies to AR users, of course, but more so with the AK. An AR is simply easier to reload quickly.
There were three AK shooters in the class, and all performed right up there with the other fellas.