Direct attachment, co witnessing* optic mount for M1 Carbine, Aimpoint Footprint.
Allows co witnessing of iron sights with Aimpoint Micro and similar sights having the "Aimpoint footprint".
Optic attaches directly to UltiMAK mount, using the four-screw pattern of the Aimpoint Footprint
Clamps securely to barrel in front of gas block
Color: Black w/matte finish
Made in U.S.A.
Choose the specific model of M6 direct attachment mount based on the brand of your M1 carbine:
Model# M6-BM
Fits tight and secure on original GI pattern M1, & M2 Carbines.
Will not fit most "Universal", Iver Johnson, or Plainfield, etc. Carbines from the 1950s, '60s and '70s
Length of mount: 8.055″
Model# M6-SM
Fits tight and secure on the new Inland Manufacturing and Auto Ordnance Carbines.
Will NOT fit most "Universal", Iver Johnson, or Plainfield, etc. Carbines unless they've been fitted with a GI profile barrel
Requires wood removal from inside of these newer wooden stocks to make room for the UltiMAK barrel clamps. Synthetic stocks may also need similar treatment.
Length of mount: 7.812″
---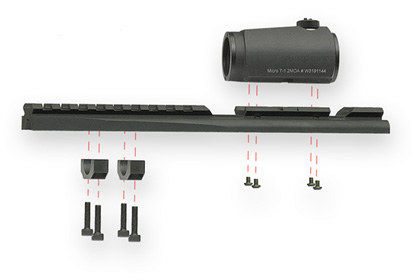 Optical sight not included (did we really need to say that?)
Please Note: These require the optic to be attached to the mount before the mount is attached to the Carbine. This is for the shooter who knows what he wants. It means that you intend to leave your optic installed on your Carbine. It is NOT for those strange people who feel they must be swapping one optic between two or more firearms. Install it, leave it, and you're good to go.

Shown above on an original IBM (yes, that IBM) 30 Carbine made during WWII, is the UltiMAK M6-BM forward optic mount. No gunsmithing required.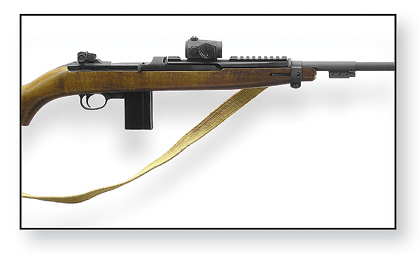 Shown on a new Inland Manufacturing, Co. 30 Carbine, is the UltiMAK M6-SM forward optic mount. Some removal of material inside the stock forend will be required on the above-mentioned Carbines, to make room for the UltiMAK barrel clamps.
*Achieving even marginal co witnessing on a 30 Carbine, which has very low iron sights, was not easy. In fact our previous draftsman said it was impossible (I like it when people tell me something is impossible, especially after I've already produced a hand-made prototype of it!) It required eliminating the Picatinny interface altogether, and furthermore it required elimination of the "adapter plate" as found in the MOS (Modular Optic System) as used on some pistols. Installed with an Aimpoint Mirco (H1, T1, H2 or T2), or a Primary Arms MicroDot (gen 1 or gen 2 having a removeable base) with the rear iron sight aperture on the low (100 yd) (adjustable rear sight) setting, you may see no front iron sight at all when looking through the center of the rear iron sight aperture. On the 200 yd setting you may just see the very top of the front sight, and on the 250 and 300 yd settings you'll have decent co witnessing. If you have the dual aperture flip sight, you may or may not see any front sight through the low aperture, but you'll get decent co witnessong with the taller aperture. In either case your iron sights would be considered your backup, or fall back, sighting system, for the unlikely event that your optic should fail.
Other optics, not mentioned above, yet having the Aimpoint footprint, will of course be significantly lower on this mount, but may not co witness at all. If you desire co witnessing, then get either the Aimpoint Micro, or a Primary Arms MicroDot with the removable base.
An additional benefit of getting the optic down so low is this; your cheekweld, when using the optic, will be closer to the original cheekweld designed into the Carbine buttstock comb. Of course, when using the optic (your primary sighting system), you're looking just over the top of your iron sights.