UltiMAK Optic Mount for new production Ruger® Mini-14® and Mini-30®
Fits the following models:
Mini-14s made since circa 2008.

Mini-30s, from early production to present, as well as current production Minis in 6.8 and 300BLK.

"Ranch", "Mini Thirty" and "Tactical" models in all calibers; 223/5.56, 6.8, 7.62×39 & 300 BLK

Not for the HBAR "target" models.
Features:
Clamps directly to barrel for maximum stability and accuracy.

Enables use of Intermediate Eye Relief (IER) telescopes, reflex sights, and holographic weapon sights.
Includes screws, clamp, Allen wrenches, and easy instructions.
Easy installation: no gunsmithing or alterations needed.
Made in U.S.A.
Construction: CNC machined from 2024 aluminum billet
Finish: Cerakote Graphite Black finish
Rail: Picatinny style (14 slots)
Length: 10.0625″ (10 & 1/16)
Requires factory standard barrel profile. Must be used with tip-on optic/rings.
Model# M4-S
---
Forward, low mounting configuration with the enhanced versatility of a standard mounting rail. Since the M4-S clamps directly to the barrel and does not interface with the stock in any way, it fits with any aftermarket Mini-14 stock we know– wood or synthetic, fixed, collapsible, or folding. This setup will typically not allow co-witnessing due to the rifle's lower iron sight axis.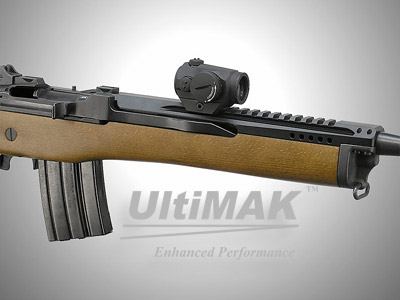 The 2008 and later Mini-14s have a heavier barrel with a distinct taper just in front of the gas block. The UltiMAK M4-S is designed to fit these barrels. You can clearly see the taper in front of the gas block in this Photo;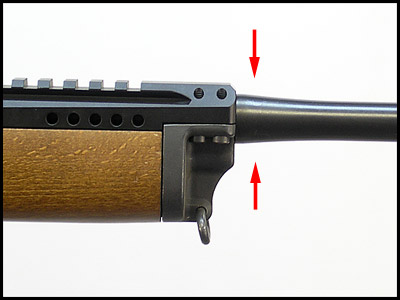 In this next photo, you see that the older .223 barrel comes straight out from the gas block with no visible taper. In that case you want the UltiMAK M4-B: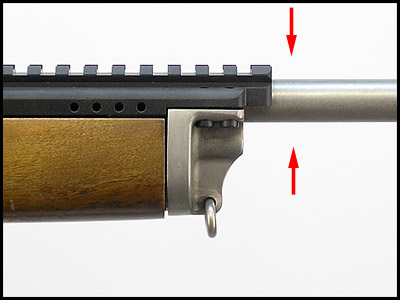 Taking the functional utility of the Mini-14 to the next level, the new UltiMAK M4-S is the lowest, most stable forward mount available. Perfect for mounting reflex and holographic sights, or intermediate eye relief "Scout" scopes, the forward positioning allows faster targeting with better field of view, greater mounting versatility, and maintains full access to the receiver mechanism with optics in place. The MIL STD 1913 (Weaver/Picatinny) rail sits lower than the original Ranch receiver mounts. This provides a better, more natural cheek weld for rapid target acquisition. Due to the lower iron sights on the new Mini, this setup will not co-witness. No-gunsmithing installation. Completely CNC machined from super strong 2024 aluminum billet, bead blasted and finished in Cerakote "Graphite black". – UltiMAK – Make Every Shot Count
---
Installation view:

Clamps directly to barrel for maximum stability and accuracy. The UltiMAK Mini-14 Forward Mount (M4-B) is shown here with stock removed to show attachment method. Four new gas block screws (supplied) securely attach the front of the mount to the barrel. Two additional screws and a 4140 steel clamp provide stability toward the rear of the optic mount. The mount body is one piece, CNC machined from a solid block of 2024 aluminum, then bead blasted and hard anodized.
Ruger®, Mini-14® and Mini-30® are registered trademarks of Sturm, Ruger & Co.