UltiMAK Optic Mount for Vepr II/Vepr K, FM-AK47-11, et al.
Picatinny/Weaver style rail.

Replaces piston tube.
Clamps directly to barrel for rock-solid stability and accuracy.
Fits any Vepr having the standard RPK rear sight and standard (~7″) piston tube.
One-piece 6061-T6 hard anodized aluminum mount body.
Comes with 4140 alloy steel clamps, screws, allen wrench, and instructions.
Overall Length: 6.875″
Made in U.S.A.
Requires a simple modification to some handguards, or use it in conjunction with ACR2-SS or ACR2-SL without modifications.
This mount does NOT fit "Version Two" Vepr with "integrated sights". It does fit the "Vepr II" or any Vepr, in any caliber, having the standard RPK rear sight block. As with any other AK, lower handguards may be an issue.
Model# M3-B
---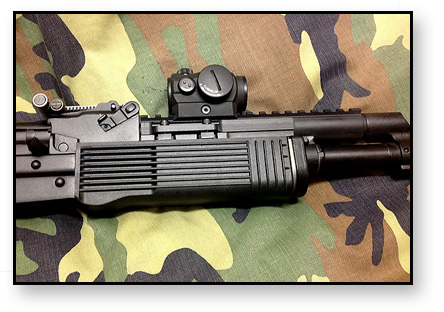 UltiMAK M3-B– A rock-solid platform for your premium optics. This mount fits .308, 5.45 x 39, 7.62 x 39 and .223 caliber Vepr II and Vepr K rifles, FM-AK47-11, FM-AK47-21, etc. Does not fit Veprs having the so-called "integrated sights" (they have much longer piston tubes) With the rail positioned below the iron sights, this is the lowest optic mount available for this great rifle. You will be able to use your optic without a cheek riser and still use your regular hold. Allows co witnessing of iron sights when used with tubular bodied 1x sights, such as Aimpoint.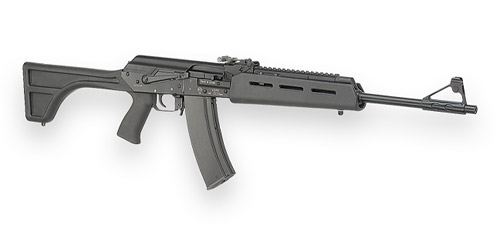 We no longer have a source for the Vepr handguards, but you can modify your own easily, using a Dremel or similar tool. You're widening the inside of the forend to accommodate the mount's clamping flange, as you see in the photo at right. Alternatively, you can leave your handguard alone and use the UltiMAK ACR2-SS or ACR2-SL modular forend. The Vepr does not use the ACR2 barrel clamps, but instead uses the original Vepr forend screw and internal washer.