Mounts sold under this category are discounted because they have minor blemishes (this kind of merchandise is also referred to as "seconds"). They have flaws that are cosmetic, but do not impact the mount's functionality. Each blemished M12 mount has its own imperfections, which may include small scratches and slight discoloration of the finish. Please note that the appearance of blemished mounts can vary widely.
---
UltiMAK M1 Garand Forward Optic Mount
Ultra low mounting allows co-witnessing (see details below)
Clamps directly to barrel with two 4140 Steel clamps.
Includes steel clamps, screws, Allen wrench, and instructions.
Easy, drop-in installation: no modifications necessary to your rifle.
Made in U.S.A.
Construction: Solid, one-piece 6061-T6 hard anodized aluminum body.
Rail: Picatinny style (15 slots)
Length: 9.375″
Fits Standard GI spec barrels only
Model# M12-Seconds
---
Customers have been asking for an UltiMAK optic mount for their Garand rifles for years. Here it is, and it's everything you've come to expect from UltiMAK. Its forward positioning places the optic entirely clear of the receiver mechanism without the Rube Goldberg tricks of the past. Elegant and simple, it's low enough to allow co-witnessing of iron sights when used with tubular 1x optics such as Aimpoint, it is stable so you don't have to worry about loss of zero, it's rugged, it looks great as it blends in with the rifle's original profile, and it is designed to be installed by the user with simple tools. In a word, it's UltiMAK.

Above is a 1940s Springfield M1. It's been through a lot, yet it functions just like it did over 65 years ago. However, this one sports a 2.5x Leupold intermediate eye relief (I.E.R.) "Scout" scope atop the UltiMAK M12 mount.
The bottom photo shows an Aimpoint Micro T1 atop the M12. This is a co-witnessing arrangement, where the iron sights may be used, as a back-up sighting system, seen through the bottom portion of the Aimpoint's viewing area. For more detailed information on electronic sights and their use, see our article; "Understanding Electronic Sights".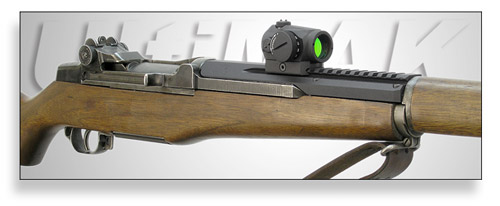 Note regarding M1 "tankers" / Note to gunsmiths; Tankers (shortened M1 Garand rifles) are often a problem. You need clearance of at least 0.050″ between the barrel and the operating rod to accommodate the UltiMAK M12 barrel clamp, immediately behind the barrel band/forend cap, and most tankers do not have enough room there. You can see the forward clamp position, indicated by the screw, in the photo above. The forward clamp doubles as a recoil lug for the optic mount, extending just forward of the mount proper and buttressing against the barrel band/forend cap which is securely pinned to the barrel. The clamp is already as thin as practical, so trying to thin the clamp to make room is a bad idea. Ideally, the tanker conversion would be done with the UltiMAK mount in mind, and in that case it would be fairly easy to accommodate it. Please make note of this when planning any future tanker conversions.