UltiMAK Saiga Shotgun Optic Mount
For Adjustable Rib Models; fits both 12 and 20 gauge
Requires tools (punches and screwdriver) and Loctite.
Low profile, lightweight, rugged, stable and versatile.

Picatinny (1913) style rail mount.
Comes with screws, hardware, and instructions.
No permanent alterations to your shotgun.
Includes integral recoil lug on underside.
Replaces sight rib, bolts front and back.
Material: Aerospace-grade 6061-T6 aluminum billet*
Finish: MIL STD hard anodizing, non-reflective black matte
Made in U.S.A.
Model# M11-S
---
The UltiMAK M11-S provides the answer to forward mounting a high-speed optic over the gas tube on these handy shotguns, which do not have removable gas tubes like other AKs. This unit replaces the adjustable rib with a solid, recoil-lugged Picatinny style rail that screws to the gun at the gas block and the rear of the gas tube with no drilling or tapping. It works with any IER ("Scout") scope or any high-end reflex or holographic sight. It has survived our most punishing tests, using the heaviest 3″ magnum 12 gauge loads– if your gun can handle it, the UltiMAK mount can handle it. It is shown below on a Saiga 12 with the Micro T-1 reflex sight from Aimpoint, and in the background, the Trijicon RX09 Reflex sight.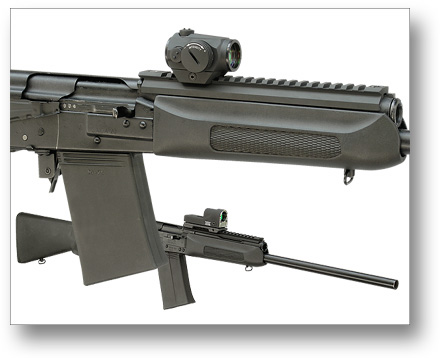 The Saiga shotgun can now be easily fitted with a wide array of optics to suit your needs: A "Scout" scope for slug shooting, or any of the high-speed reflex and holographic sights will do very well for you. Probably the best shotgun reticle is the EOTech standard A65 holographic reticle (1 MOA** dot with 65 MOA circle) though the EOTech sits a bit high on the Saigas.

Fast-response shooting, such as wing shooting or self defense against moving targets, is greatly facilitated by the addition of a forward mounted, 1x optic.
The Saiga 12 below takes a break after a long day of testing at the range. We went through several prototypes before settling on this final, production mount. On that day we used the Trijicon RX09 reflex sight, which performed beautifully.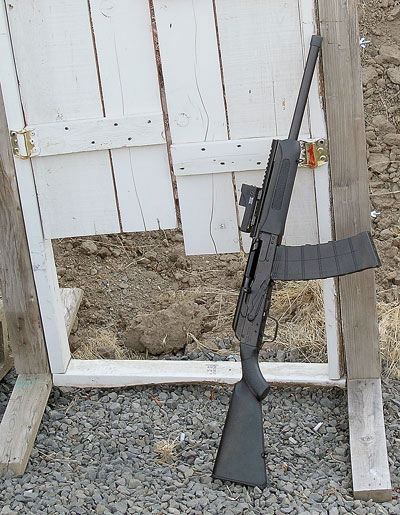 We discovered that's it a lot of fun to hand throw an empty 12 gauge shell into the air and see how many times you can hit it before it either drops to the ground or flies out of range. Hand throwing stacks of your own clay targets is a good challenge too, plus it makes for a great aerobic workout.
*Term inflation: At first it was called simply "6061-T6" because that designation says everything about the alloy's chemical composition and temper (heat treat and aging for hardness and stability). Later it became "aviation-grade" because that made it sound more exotic and exciting, plus 6061-T6 can in fact be found on aircraft, along with many other alloys). Now we are obliged to call it "aerospace-grade" because that's even more exotic (and no doubt, it also can be found on the occasional spacecraft). It is in fact identical in every way (within its defined tolerances) to all other 6061-T6 aluminum (aviation-grade, aerospace-grade, or even "backward-engineered alien spacecraft-grade" which we suppose is the next term in the sequence). If we're going to join the crowd and BS you like everyone else, why would you trust us?
Billet simply means a larger piece of stock, such that every surface of the part has been machined to spec on computer controlled milling machines, and therefore the pre-finishing dimensions can be kept extremely precise.
**MOA: Minute Of Angle = 30 mm at 100 meters, or ~1″ at 100 yards