UltiMAK Saiga Shotgun Optic Mount
For Fixed-Sight Model Saigas; Fits both 12 and 20 gauge
Requires tools (punches and screwdriver) and Loctite.
Models prior to 2008 require no permanent alterations (read further regarding newer models)*
Low profile, lightweight, rugged, stable and versatile.

Includes integral recoil lug on underside.
Replaces factory sights, bolts front and back.
Includes screws, hardware, and instructions.
Made in U.S.A.
Construction: Solid, one-piece 6061-T6 hard anodized aluminum body.
Rail: Picatinny style (19 slots).
Length: 9.25″
Model# M11-L
---
*Notice regarding installation: The newer Saigas (2008 production and later) have been coming with non removable front sights in a different location on the gas block. These front sights must be ground flush with the gas block. Then a hole must be drilled (#29 drill) into the gas block and tapped to the 4 x 0.7 mm thread for the M11-L mount's front screw. This should only be attempted by those familiar with such procedures.
The UltiMAK M11-L provides the answer to forward mounting a high-speed optic over the gas tube on these handy shotguns. This unit replaces the iron sights with a solid, recoil-lugged Picatinny style rail that screws to the gun at the gas block and the rear of the gas tube. It works with any IER ("Scout") scope or any high-end reflex or holographic sight. It has survived our most punishing tests, using the heaviest 3″ magnum 12 gauge loads– if your gun can handle it, the UltiMAK M11-L can handle it.
The Saiga shotgun can now be easily fitted with a wide array of optics to suit your needs or tastes. A "Scout" scope for slug shooting, or any of the high-speed reflex and holographic sights will do very well for you. Probably the best shotgun reticle is the EOTech standard A65 holographic reticle (1 MOA** dot with 65 MOA circle) though the EOTech sits a bit high on the Saigas.
Fast-response shooting, such as wing shooting or self defense against moving targets, is greatly facilitated by the addition of a forward mounted 1x optic.
The Saiga 12 at right takes a break after a long day of testing at the range. We went through several prototypes before settling on these final, production specs. On that day we used the Trijicon RX09 reflex sight, which performed beautifully.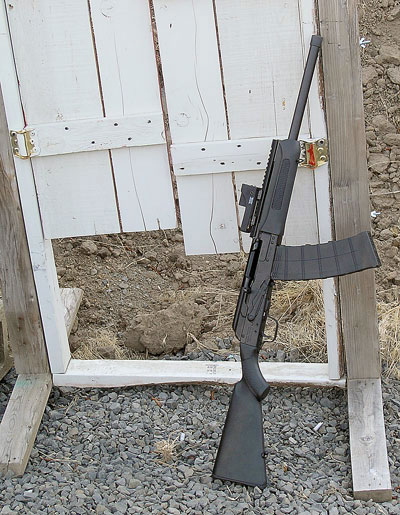 **MOA: Minute Of Angle (one sixtieth of one degree of arc, sometimes referred to as Minute of Arc). 1 MOA = 30 mm at 100 meters, or ~1″ at 100 yards.