GG&G Quick Detach 30 mm Cantilever Ring

For Aimpoint CompC thru CompML3 & Trijicon Tripower

Solid aluminum construction with steel crossbolt.
Places 30 mm reflex sight at proper height for AR flat tops.
Innovative, captivated steel wing-nut.
Finish: Black, matte, hard anodized.
Made in U.S.A.
Model# GG-1014
---
The GG-1014 places your 30 mm sight at the correct height for proper cheek weld, your flip-up rear sight can be deployed to co-witness directly through the Aimpoint's or Tripower's optics. The GG&G Cantilever Ring is also designed to place the sight far enough forward so that the Aimpoint 3x Magnifier can be used on the receiver rail, along with the flip-up sight, or a night vision monocular can be mounted to the rear in co-alignment and in conjunction with Trijicon's or Aimpoint's night vision compatibility.
The newly re-designed GG&G Cantilever Ring is lighter in weight, and incorporates a captivated thumbnut and spring activated sidebar, which aides in installing the mount, especially in low light conditions. The ring body has a built-in insulated spare battery compartment with a spare battery cap, located on the side for easy access. The rugged GG&G Cantilever Ring is manufactured from solid billet 6061 T6 aluminum and is Type III hard-coat anodized black to mil-spec.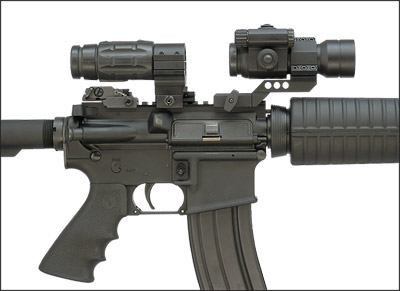 At right, Ben tests the Trijicon Tripower, mounted in the GG1014 and the Aimpoint 3x Magnifier in a TwistMount with the AP12227 spacer. The optics align perfectly, giving a beautiful sight picture with a crisp chevron reticle, and the cantilever ring leaves room for a flip-up rear sight. Ben was so impressed with his groups that day, he saved the targets as wall posters.